Cupid showers Valentine's Flowers 24/7 at the California Flower Mall flower market. Best for less boxed roses, forever roses and traditional Valentine's flower favorites are stocked for frenzied florists, DIY love bud hunters, shift workers and last minute procrastinators who want to beat traffic and save up to 70% off retail prices buying direct from CFM wholesalers in downtown LA's Flower District.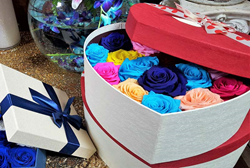 Cupid showers Valentine flowers around the clock beginning Monday 4:30am through Valentine's Tuesday 8 pm at California Flower Mall flower market in LA's Flower District community. CFM is a block wide mall lush with hundreds of varieties of farm fresh Valentine's Day cut flowers, red roses, plants, pre-made bouquets and custom arrangements from CFM's 30 flower petaler showrooms. The floral trade and public are welcome at the DTLA 825 San Pedro St. wholesale flower mart, no admission fee or membership badge is required to enter. "Valentine's flower shoppers in the LA region are lucky to have the largest flower trade district in the U.S. right in their own backyard. We're open all night Monday from 4:30am until Valentine's Tuesday at 8 pm for florists needing last minute cut flower products or pre-made arrangements and DIY budget-minded shoppers that want to buy the best for less for loved ones. Flowers here are delivered and maintained fresh from farms in door to door in 41F cold chain storage. CFM vendors invest in 41F flower storage rooms behind their showrooms to ensure customers get the freshest, long lasting flowers. There's high value Valentine's flower gifts for everyone's holiday list whether they want to spend $3 making their own DIY mason jar flower arrangement or $400 on a premium four foot tall, four dozen long stemmed rose vase arrangement with submerged orchids," says Mark Chatoff owner and president of California Flower Mall.
CFM spokesperson Vanina Trogolo says, "People will be pleased to see so many on trend, exotic and hard to find Valentine's flowers as well as our traditionally dazzling holiday favorites here at CFM. It's exciting to see the diversity of selection for every taste, budget, style and culture. Trogolo says new Valentine's flower choice beauties at CFM this year include:
Boxed roses and flower arrangements: Growers Direct showroom #102 debuts stunning on trend boxed flowers in traditional and custom artistic holiday designs at three affordable price points
Boxed eternal roses: Mireya's Flowers showroom #121 features a variety of beautifully boxed "forever rose" arrangements that look and feel like real yet last for much longer. Premium quality 70 cm roses from Ecuador and Colombia are carefully chosen and a Parisian flower preservation technique is used to create forever rose arrangements
Long lasting tree truck roses: El Poblano Flowers showroom #115 tree trunk flower sculpture arrangements are the original signature design of floral artist Angel Alba. Alba's designs are said to last several weeks with proper care.
"Forever roses are expected to maintain their beautiful appearance for two years. Proper care requires no direct contact to sunlight, excessive heat or moisture. Unfortunately, guys that give their sweetheart the gift of eternal roses this Valentine's Day do not receive a pass to skip giving Valentine flower gifts next year," Trogolo says with a wink.
About California Flower Mall
The California Flower Mall, located at 825 San Pedro Street with parking at the 824 San Julian Street entrance, is one of the largest DIY wholesale flower markets in the eight block Downtown LA Flower District trade community — the largest concentration of wholesale flower markets and flower businesses in the U.S. It is located in the LA Fashion District Business Improvement District. Mark Chatoff is Chairman of the LA Fashion District Board of Directors. CFM customer amenities include an ATM, cafe, customer restrooms, and on-site parking. Visit CFM at https://californiaflowermall.com