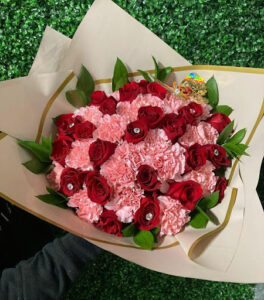 Roses reign as the flower of choice to celebrate the Days of Love. Holiday flower shopping for businesses, sweethearts, self-lovers, family members, or pets will find fresh flowers like groceries are more expensive this year – especially during Valentine's Day. The Society of American florists estimates that 250 million rose stems are produced in the middle of winter just for Valentine's Day.
California Flower Mall rose distributors say that growers raise the price of roses every year during Valentine's season, so customers typically feel the pinch of holiday supply and demand dynamics. This year, weather conditions resulted in less crop production and even higher prices.
So how do you get the best bang for your bloom buck?
Place holiday orders early. Whether sourcing for a floral business or shopping for a flower gift placing orders in mid-January – for pick-up during the holiday – can save up to 30%
Does it have to be red roses this year? Choose rose colors other than red which cost less
Ecuador roses are the finest in the world, but Mexican roses are just as pretty and less expensive
Choose a mix of roses and other less expensive flowers to celebrate love on a budget
Does it have to be roses? Tulips, sunflowers, and daisies are full of love too
Find out their favorite color or flower? Check their social media, roses may not be necessary
Flower market veterans say prices often drop later on Valentine's Day. There may be fewer choices and reds may be gone, but bargaining is a common practice when vendors want to clear inventory and go home. California Flower Mall closes at 8 pm on Valentine's Day.