Los Angeles, CA February 10, 2010 – Discover how to buy Valentine's bouquets 70% below retail prices with insider tips from The LA Flower District California Flower Mall. Now, recession warriors can hunt Valentine's rose and flower deals round the clock at California Flower Mall — the only Los Angeles flower mart open 24 hours from Friday 4 am to Sunday 6 pm Valentine's Day.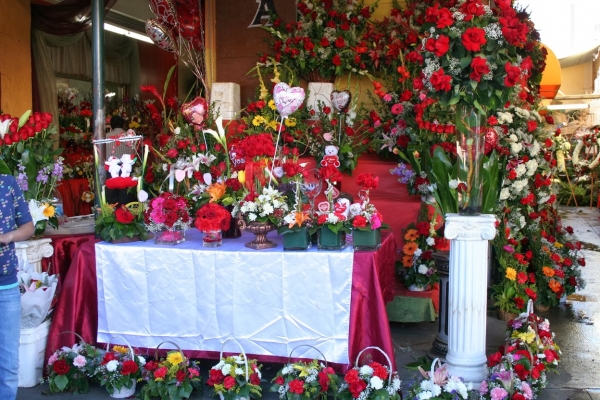 "Guys are known for waiting until the last minute to buy Valentine's roses and flowers – with Valentine's Day on Sunday this year many are going down to the wire," said Mark Chatoff, Owner and President of the LA Flower District California Flower Mall. "Our downtown LA flower market is the only mart in The LA Flower District open 24 hours through Valentine's weekend to supply florists and the public with wholesale and discount Valentine's flowers."
Chatoff continued, "Guys can buy flowers here for their sweetheart, Mom, Sister, Grandma and cleaning lady and pay less than one bouquet ordered retail or online. It's best to shop for wholesale flowers at a Los Angeles flower mart like California Flower Mall that caters to both trade and do-it-yourself buyers – look for an LA flower market with free admission, free parking and later operating hours." He added, "Wholesale flowers are a great alternative for guys that can't splurge for Valentine's Day due to the down economy, or smart spenders that choose to buy Valentine's bouquets at discount prices so they can spend more on fun over the three day weekend."
"Check our website for tips on lush DIY $10 Valentine's bouquets that look like you spent $70." he advised.
Chatoff offers these insider tips to shop the Los Angeles Flower District like a pro:
Arrive Early Morning – Shop before 7 am for the best deals, selection and easy access. The Los Angeles flower market gets farm deliveries around 3 am, by 4 am LA flower marts are buzzing with trade customers. Observe how the trade shops. The week before Valentine's Day is one of the busiest wholesale flower weeks of the year so early morning or after 6 pm visits are best to beat traffic and street closures.
Bargain – Negotiate like the trade does. Don't accept the first price offered. It's an accepted business custom. Plan to pay cash for your purchases. ATMs are on-site.
Relax – If DIY is not your style or you're on a tight schedule, some wholesalers sell pre-made Valentines bouquets and arrangements for $20 – $30 to delight the loves of your life.
About CFM
The LA Flower District California Flower Mall is the newest premier 45,000sf wholesale flower market in the eight-block Downtown LA Flower District – the largest wholesale flower district in the U.S. Mark Chatoff is Owner and President of The Los Angeles Flower District California Flower Mall and Chairman of The LA Fashion District Business Improvement District.
Contact:
Hilda Jimenez
(213) 488-1983
[email protected]