California Flower Mall shares foolproof tips for men to pick perfect Valentine's Day flowers she'll love using Pinterest. CFM opens 24/7 before Valentine's Day for perfect last minute DIY flowers.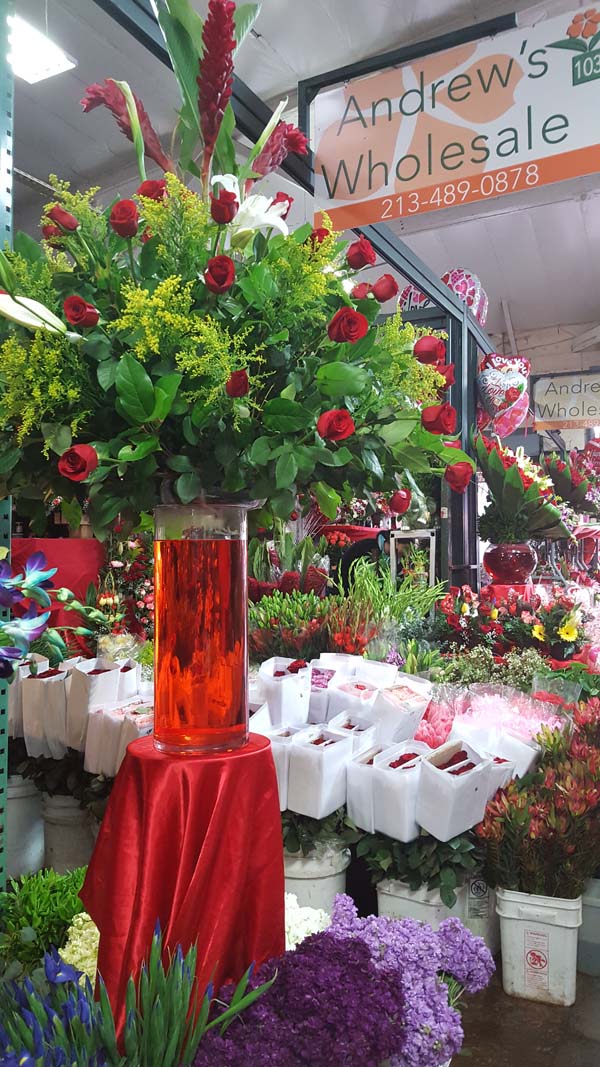 Showing love and affection with the perfect Valentine's Day flowers from California Flower Mall for a girlfriend, wife or sweetheart –without having to ask them– is a lot easier thanks to Pinterest. Gathering clues, asking for hints, inquiring about her favorite color may spoil the element of surprise especially when the questions come a day or hours before Valentine's Day. "One of the reasons we're open all night before Valentine's Day and late Valentine's Day evening is men tend to wait until the very last minute to do Valentine's flower shopping. Luckily, most women are pinning the things they love and dream of on their Pinterest boards which are publicly available, so guys can quickly learn her favorite colors, her style and possibly her favorite flowers," says Mark Chatoff owner and president of California Flower Mall.
There are other trends a man may wish to consider before making a Valentine's flower selection for his beloved.A Society of American Florists study shows, of the 88 percent of men celebrating Valentine's Day with a flower gift for their spouse or significant other, 63% will purchase red roses. However, it is worth noting that red roses – the most expensive flower of the season – are clearly not equal in the "got to have them" flower preferences of women. The same SAF study reports that when women are asked what color roses they prefer when buying for themselves – about 37 percent would choose red roses, 20 percent would choose mixed rose colors, 9 percent lavender, 7 percent peach, 7 percent yellow, 6 percent pink, 5 percent white and 8 percent don't know. The study also reports men respond well to vivid, crisp colors like red, orange, purple and blue, while women tend to relish pastel tones of pinks, peaches and lavenders.
Taking a a few minutes to discover what she finds "Pinteresting" will ensure flower picks she absolutely loves and if she's one of nearly two-thirds that prefers colors other than red, guys may save money too.
"The Idiot's Guide To Finding Your Girlfriend / Wife / Mom / Sister's Pinterest Page" gives an easy five step tutorial with screen shots to find her Pinterest page for flower selection inspiration. A password is not needed. The tutorial includes an email to a woman that can help if gentlemen get stuck. The steps the guide provides to find a Pinterest page are:
>Step 1: Go to http://www.pinterest.com (aka click that link).
>Step 2: In the Search Box in the upper left hand corner, type in the name you're looking for. Hit the magnifying glass or hit "enter" on your keyboard.
>Step 3: There's a good likelihood that there's nothing there – don't freak out. On the left, see "Pins · Boards · Pinners." Click on Pinners to find People, after clicking on Pinners
>Step 4: Click on the picture of the person you're looking for. Now you can see all their boards – aka all their categories.
>Step 5: Click on any category that you want to see what they've "pinned."
"Guys may discover their entire wedding has be planned out on a Pinterest board- flowers and all, before he's actually proposed. Now it's time to consider if he'll need an engagement ring to go with those flowers," he chuckled.
About California Flower Mall
The California Flower Mall, located at 825 San Pedro Street with parking at the 824 San Julian Street entrance, is one of the largest DIY wholesale flower markets in the eight block Downtown LA Flower District trade community — the largest concentration of wholesale flower markets and flower businesses in the U.S. It is located in the LA Fashion District Business Improvement District. Mark Chatoff is Chairman of the LA Fashion District Board of Directors. CFM customer amenities include an ATM, cafe, customer restrooms, and on-site parking. Visit CFM at https://californiaflowermall.com