CFM petalers prep for frugal Valentine's flower shoppers as uncertainty caused by the "Trump Effect" grips the hearts and purse strings of LA's Latino community.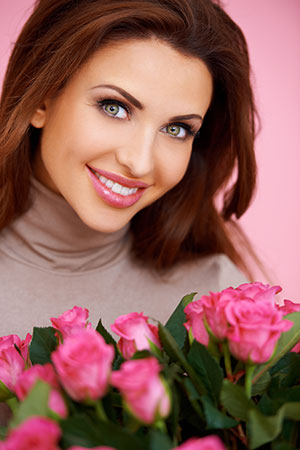 California Flower Mall petalers are prepping for a frugal Valentine's Day flower holiday this year as fear and uncertainty caused by the "Trump Effect" is expected to tighten the purse strings of the Southern California Latino community far more than the 10% Valentine's Day spending dip forecast nationally by a National Retail Federation report.
The NRF report shows cupid may need to use more muscle on his bow to inspire Valentine's gift shoppers to spend as much as 2016 for love gifts. Flowers continue to reign as a Valentine's gift favorite with 35% of celebrants expecting to spend $2 billion on flowers this year. "Valentine's season is one of the highest grossing flower holidays of the year for LA's floral trade. California Flower Mall vendors recognize Latino customers are deeply affected by President Trump's posture on immigrants – especially Mexican-Americans. We'll have fresh Valentine's flowers at every price point to lift the hearts and spirits of loved ones troubled by these uncertain times. We're approaching this season with the same resilience that kept business blooming during The Great Recession — wholesale to the public DIY Valentine's flower gift deals up to 70% off retail prices, late night and 24/7 holiday operating hours and no entry fee or membership requirement for the trade or public," says Mark Chatoff owner and president of the 40 vendor CFM.
Flower trade interests on the ground in LA and Orange County have already experienced the financial impact of the current Presidential administration on Southern Californian Latino community consumer confidence. Gersain Bustos, CEO and owner of Growers Direct Flowers at CFM and 4 other locations in LA and Orange counties saw a 70% drop in early December sales for the flower filled Dia de Virgen Guadalupe religious holiday. "Latino Catholic worshipers who would normally spend lavishly on a rose bouquet gift for the Virgen were buying a single flower instead – whether they were born in this country or not people in the Hispanic community here tell me they must save their money because they feel like they have a target on their backs. People are in shock. They don't know what is going to happen next to their family, friends and relatives. I hope I'm wrong but I think Valentine's flower spending in Southern California is going to be down far more than the nationwide forecast directly because of the psychological terror the Trump effect is having on Hispanic people here," Bustos says. Mother Nature is also contributing to a less rosy Valentine's Day season for flower petalers. "California and Mexico rose production has been affected by the cold temperatures and rainy weather. As a result there is less product coming from local sources. 30% of our rose product comes from California and Mexico, 70% comes from South America, so the market dynamics of supply and demand for rose products is one factor contributing to higher Valentine's rose prices for consumers," he said.
CFM will open to the trade and public around the clock Monday, Feb, 13 though Tuesday Valentine's Day 8 pm. The extended hours for the days leading up to Valentine's Day are:
> Thursday, February 9, 2017 – 4:30 am- 6 pm
> Friday, Saturday & Sunday February 10,11,12 2017 – 4:30 am-8 pm
> Monday, February 13, 2017 – 4:30 am open 24 hours rolling into Tuesday
> Tuesday, February 14, 2017 – open until 8 pm.
About California Flower Mall
The California Flower Mall, located at 825 San Pedro Street with parking at the 824 San Julian Street entrance, is one of the largest DIY wholesale flower markets in the eight block Downtown LA Flower District trade community — the largest concentration of wholesale flower markets and flower businesses in the U.S. It is located in the LA Fashion District Business Improvement District. Visit CFM at https://californiaflowermall.com