CFM Downtown LA wholesale flower market petalers feverishly prep LA Dodgers baseball victory party flowers to help finger crossed fans across the Southland root for LA to win game 6 and 7 of the World Series this week.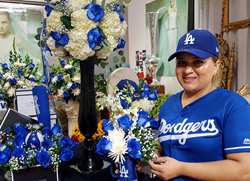 CFM Downtown LA wholesale flower market petalers showcase a creative array of unique blue and white Dodger baseball flowers and bouquets to prepare for LA's game 6 and 7 World Series wins, while simultaneously meeting peak holiday week demand for Halloween and Dia De Los Muertos (Day of the Dead) wholesale cut flower products.
Many California Flower Mall businesses designed distinct, creative flower products to add excitement and a winning spirit to this weeks "do or die" Dodgers games. Miriam Cazares, owner of Cazares Flowers in showroom #112 says, "Our team prepared a range of Dodger baseball themed flowers for every budget from tiny, kitschy $5 Dodger Dog baskets to more elaborate 2.5 feet tall $40 baseball shaped centerpieces for game buffet floral centerpieces, office and lobby team spirit displays and gifts." Other flower vendors say they'll offer a single Dodger victory bouquet or design. Nayeli Jimenez, owner of Royalty Flower Events in CFM showrooms #106 & 108 decided to offer a large farm fresh cash and carry $10 bouquet of fluffy blue spider mums, white roses, and eucalyptus to bring good luck to the Dodgers and their fans. Floral arranger Angel Alba from Luxury Events by Alba #110 will custom design orders for his signature baseball bat, hat and ball "flower sculpture." Sanchez and Ramos Flowers #111 offers an on-trend blue lacquer garden bucket vase lush with fragrant white lilies, blue carnations, white hydrangeas and feathery blue filler.
California Flower Mall named Mireya's Flowers showroom #121 the most die-hard CFM Dodger fans with the best team spirit display in the downtown LA wholesale flower market. Owners Mireya Perez and Joel Cervantes are showing their team and Halloween spirit today wearing Dodger hat and shirt costumes, displaying Dodger team balloons, large blue and white rose and mum bouquets, upscale blue and white floral box décor featuring Dodger merchandise keepsakes; Dodger coffee mug bouquets for offices and co-workers, and high end 3 – 4 foot centerpieces for Dodger victory dinners, celebrations and receptions. Cervantes says, "We've also designed blue and white church altar flower arrangements for clergy and congregation Dodger fans – LA's team needs everyone's prayers to win game 6 and 7 and claim the pennant!"