California Flower Mall Andrews Wholesale Flowers is one of ten CFM petalers sponsoring a Dia De Las Madres and Mother's Day flower arrangement prize for CFM's Best Mom Ever Mother's Day Flower Daily Giveaway – #CFMMothersDay. The winner chosen at random for the May 6 prize is Martha Ocampo, a single Mom and California State University Long Beach graduating senior who'll receive an $80 Mother's Day flower arrangement of her choice from Andrews fresh floral designs during the busiest flower week of the year concluding with CFM's 24/7 Mother's Day marathon weekend on Sunday May 14 at 7 pm.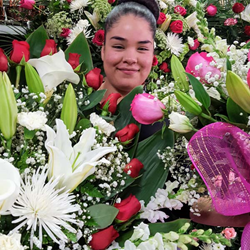 Franchesca Sanchez, owner of Andrews Flowers says the Mother's Day holiday week 18 hour days and the California Flower Mall 24/7 Mother's Day Marathon weekend keeps her and her team active and busy, so time passes quickly. "I'm motivated by the creativity of floral work and the satisfaction of seeing my customers happy. I worked cleaning houses for 20 years before I was introduced to flower wholesaling and arranging by my niece. I fell in love with the flower business 15 years ago and I've never looked back," says Sanchez, an East LA resident. This women business owner knows the experience, talent and hard work of her team – Anna Mendoza, Martin Sanchez, Tina Juarez and Jerika Barranco – is the most valuable asset of her thriving business during the highest grossing flower holiday of year.
The May 6 winner of CFM's Best Mom Ever Photo Contest – #CFMMother'sDay, Martha Ocampo says she and her mother Maria Ocampo will celebrate Mother's Day this weekend because it's easier to get together Sunday than on Dia De Las Madres, Wednesday May 10. "My mommy means the world to me I don't know what I would do without her help and guidance. Thank you Andrews Flowers for giving me such a beautiful and expensive flower prize – it's such an exciting way to show my Mom how much I love her," Ocampo says.
About Andrews Wholesale Flowers
Andrew's Wholesale Flowers is located in showroom 101 and 103 at CFM's 825 San Pedro Street entrance. All major credit cards are accepted. Their telephone number is 213-489-0878. The staff speaks English and Spanish. Pre-orders for fresh cut and arranged flowers are encouraged for Dia De Las Madres and Mother's Day weekend. Hand delivery is available within a 30 mile radius of Downtown Los Angeles for an additional fee.
About California Flower Mall
California Flower Mall is located at 825 San Pedro Street and 824 San Julian Street, spanning a city block; it is one of the largest DIY wholesale flower marts in Downtown LA's eight block Flower District trade community. It is the only wholesale flower market open late evening hours Mother's Day week and all night 24/7 Mother's Day weekend until 7 pm Sunday May 14, 2017. CFM is open to the trade and public, no entry fee or member badge is required. To inquire about flower availability and prices contact CFM vendors directly here: https://californiaflowermall.com/floor-map-vendor-directory/. Amenities include convenient onsite parking, an ATM, casual patio dining and tidy customer restrooms. LA's Flower District is the largest concentration of wholesale flower markets and flower businesses in the U.S. It is located in the 100 block LA Fashion District Business Improvement District.