A poll of 2,000 floral designers says long stemmed red Valentine's roses are cheapest in LA. California Flower Mall is the only wholesale LA flower market open free to the public round the clock before Valentine's Day for last minute cupids looking for wholesale and discount Valentine's roses up to 70% off retail prices.
Los Angeles, CA (PRWEB) February 10, 2014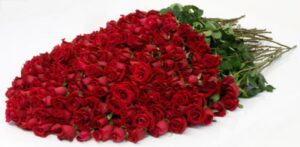 LA Flower District California Flower Mall is open all night Thursday and until 9 pm on Valentines Day Friday Feb. 14th.
The Valentine's rose price poll results is good news for cautious cupids looking to save on Valentine's Day roses for their sweethearts. "Even if long stemmed red rose wholesale prices are cheaper here than in New York or Chicago, they're higher now than any other time of the year. My floral design customers only use top quality imported roses to fill Valentine's orders. They have to pay market prices to deliver the very best to their affluent customers " says Jose Macias owner of Macias Wholesale at California Flower Mall.
So what should cost conscious cupids do? Macias says there's plenty of wiggle room for bargain blooms. He suggests:
choose silver instead of gold grade long stemmed red roses
select short stem roses in bigger bunches
mix stargazer lilies with red roses for a delicious fragrance and dazzling bouquet
buy sweetheart and love gifts for relatives at the same time to get a volume discount
rose prices drop closer to Valentine's Day but red roses may sell out early
Frugal cupids see just as many smiles with gifts of spring colored roses or rose bouquets mixed with other flowers. Many women like pink Valentine's roses – they're tired of red, the predominant color of winter holiday flowers.
"Long stemmed red Valentine's roses are the go to flower gift for most guys, they've been told that red roses have biggest wow factor. Some women prefer other flowers" says Hilda Jimenez, California Flower Mall operations director. "Guys bring their wives and sweethearts to California Flower Mall the night before Valentine's Day to pick their own flowers and they're often surprised when she picks a bunch of tulips or gerbera daisies," she adds.
Jimenez, a member of the Downtown LA Fashion District Board of Directors where the eight block Los Angeles flower district community is located, cautions shoppers to look carefully to get the best bang for their buck. "Not every flower vendor is a wholesaler — some cash and carry florists, located next to wholesalers, sell Valentine's arrangements at higher retail prices. Take time to find the best flowers and price."
The Valentine's wholesale rose price poll of 2,000 florists in LA, New York and Chicago was conducted by BloomNation. The poll found wholesale roses are cheaper in LA because regional growers, supplement the import market and drive down prices.
About California Flower Mall
The LA Flower District California Flower Mall located at 825 San Pedro Street is one of the largest premier DIY wholesale flower marts in the eight block Downtown Los Angeles flower market neighborhood. California Flower Mall opens extended hours Valentine's week. 4 a.m. – 8 p.m. Wednesday and Thursday 4 a.m. round the clock through Valentine's Day until the last customer is served (approximately 6 p.m.). Admission is free to the trade and public. The Downtown Los Angeles flower district community is the largest concentration of wholesale flower markets and floral trade businesses in the U.S.
Contact:
Hilda Jimenez
(213) 488-1983
[email protected]