FAST & EASY WAY TO ENTER THE CONTEST
Click on the link below,upload an image of you and a Mom you admire enter the hashtag #CFMMothersDay enter your email address to find out if you won – boom your done – Good Luck!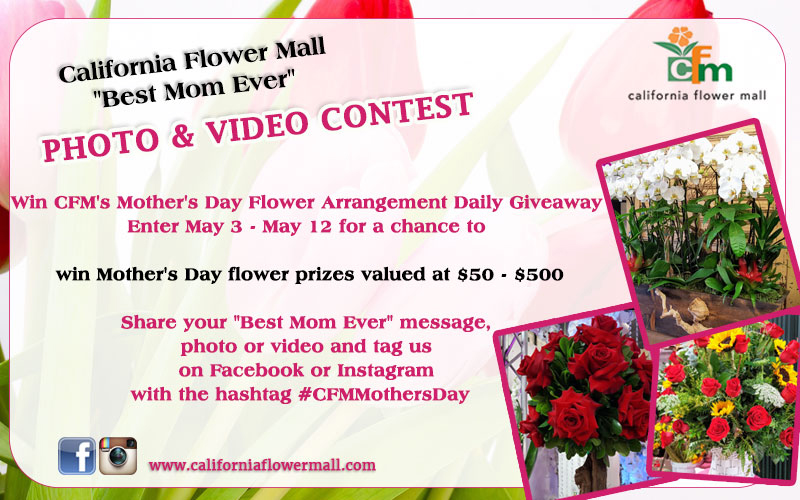 GIVEAWAY CRITERIA
California Flower Mall is sponsoring the CFM DAILY MOTHER'S DAY 2017 FLOWER GIVEAWAY – #CFMMothersDay photo and video contest in cooperation with participating CFM flower vendors. Daily Prizes of Mother's Day 2017 flower arrangements valued at $50 – $80 will be given away to entrants selected at random during the countdown to Mother's Day Giveaway period May 3 – 12, 2017. Two Grand Prize flower arrangements valued at $300-$500 will be given away to entrants selected at random.
To enter, you must be at least 18 years of age on the date of entry and a resident of California. California Flower Mall managers, employees, tenants, vendors, marketing partners, suppliers, advertising or promotional agencies, and their immediate family members are not eligible to enter. Immediate family includes only spouses, parents, and children.
Entrants may enter a photo/video once daily throughout the #CFMMothersDay daily and Grand Prize giveaway period May 3 – May 12, 2017
To enter participants must submit a photo/video of themselves and their Mother or a Mother they admire to the California Flower Mall, LA Flower District Facebook Page address www.facebook.com/californiaflowermall/ or the California Flower Mall Instagram page account www.instagram.com/californiaflowermall/ @californiaflowermall with the comment
A Facebook "Like" and comment/caption must accompany all photo/video entries. The Facebook and Instagram comment/caption must include:
Your full name and the names of the people in the photo/video
The full name of the Mother being admired or honored in the photo/video
Hashtag #CFMMothersDay
Name of the photographer
Instagram photo/video entries must include all Facebook photo submission requirements described above, and:
Instagram entrants must also "Follow" @californiaflowermall and tag a friend.
It is assumed that entrants have all necessary releases from the individuals depicted in the photo/video.
Entrants must not submit images or comments that involve human nudity, disrespectful speech, comments or photos not in compliance with Facebook and/or Instagram community guidelines or content inappropriate for general audience family viewing, as determined at California Flower Mall's sole discretion.
All photographs/video should accurately reflect the photo entry subject matter and the scene as it appeared. Photos that have been digitally altered beyond standard optimization (removal of dust, cropping, reasonable adjustments to exposure, color and contrast, etc.) will be disqualified.
Submissions may be watermarked/captioned/sub-titled if desired, but the watermark/caption/sub-title should be inconspicuous enough to not interfere with the presentation of the photo. A marked photo/video might not be honored as a qualified entry (at CFM's sole discretion) if the photographer is unable or unavailable to provide a pristine, no caption/subtitle/watermark-free version of the image/video when asked.
California Flower Mall reserves the right, at all times, to verify that an entry complies with these terms, conditions and rules. Entries that have not been obtained in accordance with these rules will not be accepted and will not be eligible to win.
California Flower Mall can use all images submitted for advertising, E-newsletters, news releases, and on the website.
CFM DAILY MOTHER'S DAY 2017 FLOWER GIVEAWAY TIME PERIOD,DEADLINE AND PRIZE TERMS:
ALL ENTRIES MUST BE RECEIVED BY 11:59 pm Pacific Daylight Time each day, starting May 3, 2017 and ending May 12, 2017. Winners will be selected at random at approximately 12:05 am PDT daily starting May 4, 2017 through May 13, 2017.
The winner will be notified immediately on the California Flower Mall Facebook Page timeline and Instagram feed and through the email address provided. California Flower Mall does not take responsibility for random prize winner notices appearing in spam boxes or other folders. Entrants are strongly encouraged to check California Flower Mall's Facebook, Instagram and web contest pages daily to see daily and Grand Prize winning entries.
The Prize must be accepted as awarded at the time it is awarded and cannot be exchanged for cash or other substitutes.
CFM and participating CFM vendors retain the right, in their absolute discretion, to make substitutions of equivalent kind or value in the event of the unavailability of any component of a Prize, for any reason whatsoever.
The Prize is not transferable and has no cash surrender value.
The Prize must be picked-up by the winner at the showroom of the participating CFM vendor awarding the daily Prize to the winner of the day. The Prize is not transferable to another CFM vendor.
The Prize does not include delivery services or applicable taxes.
The Prize must be picked up by the winner during the period of May 4, 2017 and Mother's Day, Sunday May 14, 2017 no later than 4 pm at the showroom specified
The odds of winning a Prize are dependent upon the total number of qualifying entries received.
This Giveaway is conducted by California Flower Mall and participating CFM vendors. It is open to anyone that meets the age and residency qualifications.
California Flower Mall and participating vendors shall not be responsible in any way for the use of or bear any liability whatsoever in any way attributable to the Prize awarded in this Giveaway.
Facebook and Instagram Statement of Release: This promotion is in no way sponsored, endorsed or administered by, or associated with Facebook or Instagram. You understand that you are providing your information to the owner of this Facebook page/Instagram account and not to Facebook or Instagram.
Entrants acknowledge and confirm their understanding and acceptance of these terms, conditions and rules, and release California Flower Mall, California Flower Mall participating vendors and any other person or entity associated in any way with the Giveaway from any and all liability arising in connection with the Giveaway, Including, without limitation, liability arising from the acceptance of the Prize as awarded and confirming compliance with these rules.
By accepting the Prize, all entrants eligible to win the Prize consent to the use of their name, city of residence, photograph, voice and/or image for any advertising or public relations purposes in all media used by California Flower Mall, its advertising and promotional agencies, and media outlet coverage of California Flower Mall without payment or compensation, throughout the world in perpetuity.
The decisions of California Flower Mall are final, as they relate to all aspects of the Giveaway, these terms, conditions and rules, or the awarding of any Prizes.