LOS ANGELES, CA – (Marketwire – May 4, 2011) – Learn how to buy discounted flowers for Mother's Day with discounts of up to 70% off retail and online prices. Mother's Day flower shoppers who like to make their own arrangements, (DIY, do it yourself), feel the joy of love for their mothers and enjoy the jingle in their pocket with the huge savings on roses, flowers and plants to give away on Mother's Day, available 24 hours a day at California Flower Mall – the San Pedro Street Flower Market in Downtown Los Angeles, which will be open this Friday from 4 a.m. – 11 p.m. and all Saturday night from 4 am to 8 pm on Mother's Day, Sunday, May 8.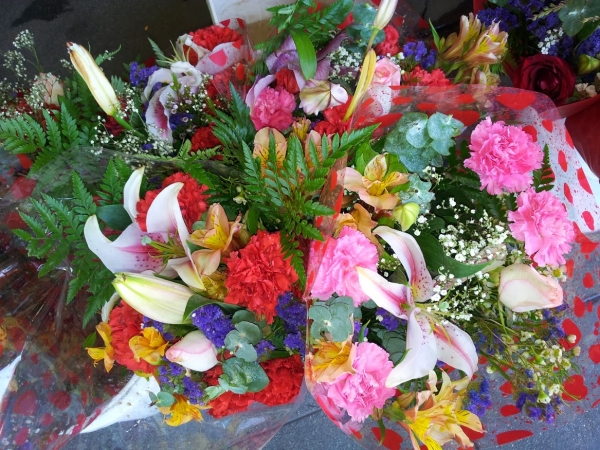 Mother's Day and Fiesta Broadway, the largest Cinco de Mayo celebration in the United States of America converge this weekend in downtown Los Angeles.

"Many people in the Latin American community in Southern California celebrate Mother's Day and Cinco de Mayo this weekend because it is easier for families to get together on the weekend than on a weekday," said Gersain Bustos, owner of Growers Direct Flowers.

"Throughout the District, flower vendors collectively receive daily shipments of nearly 10-12 million flowers this week to meet Southern California's demand for wholesale and retail flowers," said Bustos.

Mother's Day is the second most important date of the year in terms of gift sales after the winter holidays;

likewise, flowers are at the top of the Mother's Day gift list, according to the National Retail Federation.
Mark Chatoff, owner of the California Flower Mall on San Pedro and San Julian St., clarifies the dynamics of this unique flower center in Los Angeles, the largest flower district in the US. "The Los Angeles flower district has grown over the past six years. For 85 years, the local flower trade was dominated by two major markets on Wall Street. But the industry has expanded beyond its historic confines, and has surprisingly transformed our industrial neighborhood into the Fashion District. Los Angeles, which now covers eight blocks The expanded flower district:
It is a lush and colorful urban destination with miles of walkways and sidewalks filled with millions of fresh flowers that dazzle the senses.

It is a paradise for those who buy last minute flowers on Mother's Day.

It is a way to prepare your own arrangements and budget for flower gifts on Mother's Day.

It is open to the general public, and

California Flower Mall is the only flower market in downtown Los Angeles in the Flower District that opens late into the night on weekdays and all night before Mother's Day and Fiesta Broadway to supply the professionals in the flower sector and the public flowers wholesale and retail.
It's perfect for budget-minded shoppers who want to keep Mother's Day spending under control and for last-minute shoppers, especially husbands. See the California Flower Mall website for tips on how to make $ 5 – $ 10 gifts yourself using current flower and design trends this Mother's Day that give the idea that you have invested between $ 70 – U $ 100. "Chatoff notes," We also have ready-made bouquets and flower arrangements available at great discounted prices so spouses who forgot to call the florist won't come home empty-handed. "
Hilda Jiménez, gerente de operaciones de CFM, ofrece a quienes prefieren hacer sus propios arreglos estos extraordinarios consejos para comprar en El Distrito de Flores de Los Ángeles como todo un comerciante de flores:
Llegue temprano: compre antes de las 7 a. m. para conseguir las mejores ofertas, selección y estacionamiento. Los envíos de las granjas llegan alrededor de las 4 a. m.; a las 5:00 a. m., California Flower Mall ya está en plena actividad. El fin de semana del Día de las Madres es el feriado más activo del año para la venta de flores al por mayor. Gánele al tráfico y a la congestión, visítenos después del trabajo o tarde en la noche.
Regatee, no acepte el primer precio que le ofrezcan. Negocie, es una costumbre aceptada en los negocios.
Planifique una ruta a San Pedro St. durante el fin de semana para evitar el Cierre de 24 cuadras entre Broadway y Main desde Temple a la calle 4th St por Fiesta Broadway.
Los favoritos económicos: todas las flores son bellas, así que no se puede equivocar. Ramos de gerberas, claveles, francesillas (un sustituto de las rosas) y las hortensias, las tenemos aquí entre US$3 y US$6. Los ramos de rosas rojas son una tradición para el Día de las Madres en Latinoamérica y los precios son buenos. Los precios de las rosas en otros colores distintos al rojo cuestan de un 30 a un 40% más ya que las inundaciones en Colombia y Ecuador han ocasionado una menor producción de cultivos.
Relájese: si usted no es de los que hace sus propios arreglos o si tiene un cronograma apretado, hay ramos previamente preparados y arreglos desde US$15.
Traiga efectivo: también hay cajeros automáticos en el sitio.
Liquidaciones: los mayoristas hacen rebajas espectaculares el domingo en horas de la tarde para deshacerse del inventario. Es difícil predecir a qué hora van a caer los precios, pero quienes cazan las rebajas esperarán para obtener los mejores descuentos, si bien acuden muchísimas personas y algunas de las selecciones pueden haberse agotado.
"Es fácil complacer a todas las madres de su vida y celebrar el Cinco de Mayo también. Haga una cita con su mamá, con la abuela, la hermana y su enamorada y llévelas a seleccionar sus propias flores en California Flower Mall. Visítenos el viernes o el sábado en la tarde o después de Fiesta Broadway el domingo", comentó Jiménez, "Estaremos abiertos para usted, ¡Felíz Día de las Madres!"
About CFM
California Flower Mall in the Los Angeles District at 825 San Pedro and 824 San Julian between 8th and 9th Streets, is a 45,000-square-foot wholesale flower market in the Downtown Los Angeles Flower District.
Mark Chatoff is the owner and president of the California Flower Mall in the Los Angeles District, a founding member of the Downtown Los Angeles Homeowners Association, and President of the Fashion District Business Improvement District.