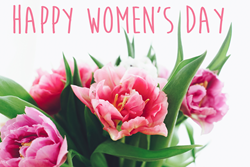 California Flower Mall's 30 wholesale flower market showrooms offer a city block variety of cut flowers, bouquets, plants and custom arrangements fresh from farms up to 70% off retail prices to celebrate and empower women on International Women's Day March 8th.
"International Women's Day on Friday, March 8 is a holiday that goes far beyond the reverence of women's grace and beauty. It is a global celebration of the social, economic, cultural and political achievements of women around the world.


It's a day to show our appreciation for all women in our lives and to take shared responsibility for creating a gender-equal world. Giving Women's Day flowers to the ones we love on this holiday has been a symbolic expression of gratitude and appreciation. California Flower Mall wholesale flower market offers a city block wide variety of cut flowers, bouquets, plants and custom arrangements fresh from farms to celebrate and empower women. A gift of beautiful blooms will leave a lasting impact and make her feel like the special woman she is," says Vanina Trogolo, CFM spokesperson.

Women's Day has been celebrated over 100 years, according to the International Women's Day philanthropic consortium. The holiday embodies the spirit of equality, dignity, justice, and empathy. Today, the holiday is gaining momentum around the world as a platform for women and girl empowerment. This year's IWD global theme is #BalanceforBetter; it promotes the establishment of a gender-balanced world where everyone has a part to play.

Photo Credit: Slyvia Lozano
It is not a holiday for romantic gifts but an opportunity for both men and women to honor other women who deserve to be recognized. California Flower Mall's team compiled a list of flower gift ideas to celebrate the women in our lives:

Mother: Although this is different from Mother's Day, consider gifting flowers to your mom, especially if she is a source of inspiration in your life. But don't thank her for just being your mom, give her a compliment about her personal and professional qualities that stand out to you
Grandmother: The 20th century is known for many tough moments in history, and even tougher people who endured them. Does your grandmother have some stories to share about growing up in the very uncertain times and making it work anyway? She would be honored if you showed her appreciation on occasion that recognizes the legacy she and her generation left upon this world. Celebrate your tough, resilient and strong-willed grandmas with flowers
Boss/Leader/Teacher: Do you have a women boss or leader in your work, school or community organization? Get together with the team and surprise the woman in charge with some fresh roses and a card expressing sentiments of empowerment and appreciation
Friend: Do you have one of those super-hero friends in your life who is always there for you and others, who never forgets a birthday and always has the right words of wisdom? This is a great time to remind her of how she makes your life better
Sister: "Sisters are for sharing laughter and wiping tears." If you have one, you know this already. How often do we thank our sister for being our rock? Not often enough! Make it a point this Women's Day

Coworker: She might be your office peer, your happy-hour buddy, or your desk neighbor – chances are she listens when you need her and gives you a high-five when it is time to celebrate work achievements. Surprise her with some beautiful blooms to let her know that she matters
Trogolo encourages people to show the women of the world that they truly matter on Women's Day. California Flower Mall proudly supports the women's movement and takes joy in this global celebration.