California Flower Mall premiers exciting new Valentine's flower gift trends created by resident floral artists, arrangers and event designers. Their competitive creativity explodes in a sense-dazzling parade of on-trend Valentine's flower arrangements, and exciting designs that delight and tantalize gift givers.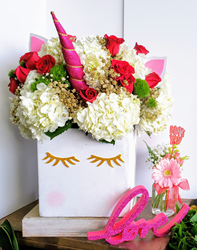 "People will be delighted to see a city-block flower market full of creative, whimsical, one of kind custom Valentine's flower arrangements at bargain prices. There are a variety of choices for every taste, budget, style, age, culture and ethnic tradition," says Vani Trogolo, CFM spokesperson.
Her custom CFM Valentine's flower gift standout picks this year are:
Pink is the New Red – Pink is the second most popular Valentine's flower color. We're seeing more people "thinking pink" this year as Galentine's celebrations bloom. Pastel pinks, peach pinks and hot pinks are catching the eyes ladies celebrating ladies at Vinny's Wholesale Plants and Flowers #105. Vinny's and Andrew's Wholesale Flowers #101 were first at the flower market to display hot pink rose blooms in clear acrylic boxes.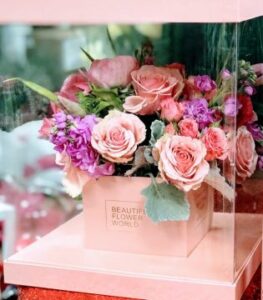 Pretty Pink Is The New Redby Vinny's Plants and Flowers #105
Way Outside the Box Designs – Floral Lab Design #130 shines with big, whimsical unicorn floral arrangements. Mireya's Flowers #121 sparkles with glittering frame designs that are one of a kind.
Rainbow Roses – Mireya's Flowers #121 was the first design team to introduce the full spectrum rainbow rose. Vinny's Wholesale #127 has rainbow rose 25 packs in purple/ blue, pink/purple, red/ black.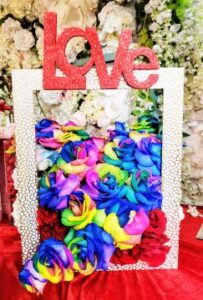 Mireya's Flowers #121 Rainbow Rose Love Frame DesignKeepsakes last forever
Hat Box Flower Designs – hat box flower arrangements are a classy, higher end gift in exquisite color combinations available at Royalty Flower Events #106, Vinny's Plants and Flowers #105 Sanchez & Ramos #109 and Mireya's Flowers #121.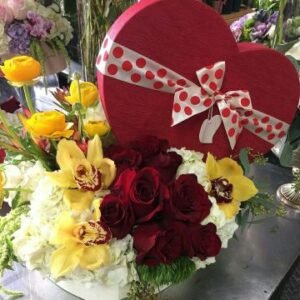 Classy hatbox flower gift has the WOW factorby Royalty Flower Events #106
Forever Roses – In the ultra-luxury class this year several showrooms offer forever roses, also known as eternal roses, because with proper care these blooms maintain a fresh picked, velvety texture for one-two years. Flamingo's Flowers #115 red forever rose heart box is a classic. Mireya's Flowers #121 single forever rose stem under glass is an affordable option.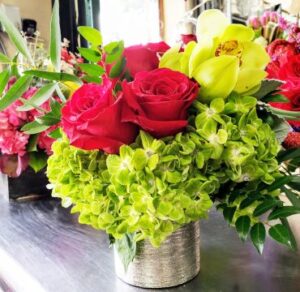 Growers Direct Flowers #102 red roses and bells of Ireland Valentine's blooms say hello Spring!