CA Flower Mall creative flower artists and event designers premier dazzling one of a kind Mother's Day flower gift trends direct from the source at prices up to 70% off retail. CFM petalers open late weeknights and 24/7 Mother's Day weekend.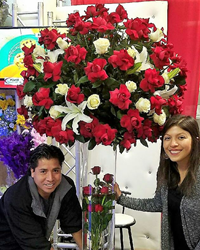 California Flower Mall premiers exciting new Mother's Day flower gift trends created by floral artists, wholesale arrangers and event designers at the downtown LA wholesale flower market. Their competitive creativity explodes in a sense-dazzling parade of on-trend flower arrangements. Exciting, outside the box or over the top floral designs that delight Dia De Las Madres and Mother's Day flower retailers and flower gift shoppers are available direct from the source at prices up to 70% off retail.
Vanina Trogolo, spokesperson for the city block wide flower market says, "People will be pleased to see so many elegant on trend, creative, one of a kind custom flower arrangements as well as traditionally dazzling gift favorites here at CFM. It's exciting to see the variety of choices and the diversity of selection for every taste, budget, style, age, culture and ethnic tradition.
Trogolo says custom Mother's Day flower gifts design standouts at CFM this year include:
Hat Box Flower Designs – there's many interpretations of elegant on-trend hat box rose and flower arrangements showcased by Growers Direct Flowers, Royalty Flower Events, Flamingos Flowers and Mireya's Flowers for a classy, higher end gift. Whimsical, one of a kind gift box designs are offered at Floral Lab Designs.
Forever Roses – In the ultra-luxury class, Mireya's Flowers exclusively offers boxed Forever Roses also known as eternal roses because their quality Ecuadorian blooms and fresh, velvety texture lasts up to two years with proper care.
Blue and Rainbow Roses – Mireya's was first to premier the rainbow roses at CFM and their flower dying techniques, colors and combination continue to evolve. Dyed blue roses come in many varieties, shades and quality from variety of CFM vendors. Food color machine dying methods produce longer lasting blooms.
Flowering Plants, Green Plants & Succulents – Choi Orchids offers a wide variety of indoor plants, long lasting orchids and tropicals. An on-trend turquoise orchid is new this season. Mom's that collect house and patio plants will love a peace lily plant from Andrews Wholesale Flowers, tiny teacup planter succulents at Floral Lab Design or earth stone succulent miniatures at Choi Orchids.
Flower Purses – Floral Lab Designs dainty, affordable pearl flower purses designs fly off the shelf as quickly as they're displayed so pre-orders are recommended. Andrews Wholesale Flowers introduced a new long lasting topiary succulent purse for the holiday season.
Flower Basket Miniatures – Precious miniatures are a popular fresh floral choice that won't break the bank. The dainty, delicate country baskets are found at Cazares Flowers and Andrews Wholesale Flowers.
Flower Sculptures – Tropier rose sculptures are tree trunks affixed with bubbles of fresh flowers – usually roses. Tropier rose sculptures are the signature design of floral artist Angel Alba at Luxurious Events by Alba. He personally harvests and prepares the grapevine wood he uses to construct his distinctive, bold designs. The rose are "reflexed" or peeled back from a tight bud. This technique creates an unusual appearance and long lasting freshness. Myrna Alba says the Tropier flowers last three weeks if they're watered every other day and kept in a cool place. Other sculpture designs are offered by Flamingo's Flowers. Heart shaped floral sculptures are also displayed by Luxurious Events by Alba, Flamingos Flowers, Andrews Wholesale Flowers, Royalty Flowers Events, Mireya's Flowers and Buen Gusto Flowers.
24K Gold Roses – Buen Gusto Flowers and Mireya's Flowers offer distinctly different gold dye and plating techniques and custom arrangements. Advance pre-orders of 24K gold rose designs are strongly recommended.
Massive Rose Arrangements – Always an eye-popper, four and five foot tall rose arrangements in a vase of submerged roses or orchids are offered by Buen Gusto Flowers, Andrews Wholesale Flowers, International Flowers Wholesale & Distributors and Luxurious Events by Alba.
"Most CFM flower vendors deliver bulk and individual gift orders. If you see something you like, order it now for pick-up or delivery. CFM doors open Mother's Day week Tuesday and Wednesday 4:30 am – 7 pm; Thursday and Friday 4:30 am – 9 pm; Saturday 4:30 am around the clock until Mother's Day Sunday 7 pm. Happy Mother's Day, everyone!" she adds.