Business is blooming for California Flower Mall petalers as they prep for their biggest flower holiday week of the year: Dia De Las Madres – Latin American Mother's Day Thursday May 10 and Mother's Day Sunday May 13. CFM opens late weekdays and 24/7 this weekend to meet fresh flower demand for two Mother's Days.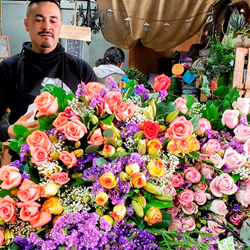 California Flower Mall petalers business is blooming as they prep for two Mother's Days this week: Dia De Las Madres – Mexican Mother's Day Thursday May 10 and Mother's Day Sunday May 13. CFM opens later weekdays and 24/7 this weekend to meet Mother's Day holiday demand
Fresh cut flowers and flower arrangements crowd the aisles of the Downtown LA 30 wholesale showroom flower market. In some showrooms, flower design teams form factory like assembly lines. Many are literally up to their ears in cut flowers, as they nimbly arrange hundreds of bouquets, flowering and green plant designs and custom floral arrangements to supply greater LA flower retailers and DIY shoppers with ready-made Dia De Las Madres and Mother's Day flower gifts. 86% of Americans plan to celebrate Mother's Day. $2.6 billion of Mother's Day gift spending will be spent on flower gifts, 69% plan to give flowers for Mother's Day, according to a National Retail Federation survey. The Society of American Florists national retail florist study reports Mother's Day is the second biggest holiday of the year for florists. CFM flower petalers and management say the SAF report doesn't tell the whole story because it is focused on transactions for one – not two – Mother's Days.
Mark Chatoff, California Flower Mall owner and president, questions if the SAF study drills down deep enough to measure the impact of regional flower spending for the Dia De Las Madres holiday tradition in Southern California. LA County by far is home to the largest Hispanic population in the country, 4.9 million, according to a Pew Research Center analysis of U.S. Census data. "The SAF spending survey may reflect overall U.S. flower spending projections, but our businesses report the two Mother's Day holidays make this week their biggest flower holiday of the year. Flowers are a non-negotiable gift in the Hispanic Day of the Mothers tradition – it's the custom to give a flower gift to every woman that is a Mother or a Mother-to-be in the extended family. The two Mother's Days create a much greater demand for flower gifts in the LA area and as traditions, cultures and work schedules blend – many Hispanic Moms are celebrated on both Mother's Days.
Hallmark began producing Mother's Day cards in the early 1920's. Hallmark's Mexican Mother's Day research lends support to Chatoff's perspective. Hallmark reports May 10th Dia De Las Madres is the largest card sending holiday in the Hispanic community and the second most popular holiday for gift-giving, following Christmas. "¡Feliz Día de las Madres! Regardless of language, we all know it means "We Love You Mom, and we are grateful for all you do," Chatoff adds.