Valentine's Day has evolved past being just a day for lovers. California Flower Mall petalers' bloom bright all night Wednesday until Valentine's Day 8 p.m. with bargain flower gifts to celebrate every kind of love and relationship.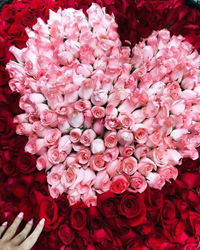 Valentine's Day is the second largest flower holiday of the year for the 30 family operated wholesale flower showrooms at California Flower Mall. CFM flower petalers will open all night before Valentine's Day, the equivalent of a Christmas Black Friday for the flower trade, undaunted by reported shifts in consumer attitudes toward the holiday. Mark Chatoff, owner and president of the Downtown Los Angeles wholesale flower market says his analysis of the National Retail Federation Valentine's 2019 report indicates sales of fresh flower gifts and décor will continue to be strong, even in the millennial age group. "The evolution of Valentine's Day is a good thing. It reflects the diversity of lifestyles and social dynamics today. CFM petalers have always offered a range of flower products for romantic and non-romantic Valentine's flower gift giving for all age groups. Whether people celebrate it as Galentine's Day, Palentine's Day, or Love and Friendship Day as it's known in the Latino culture — all reports indicate that fresh flower gifts, plants and floral décor will continue to reign as one of the top holiday favorites. Flowers uplift and renew the human spirit, that won't change."
Whatever name you give it people still love the day of love. Danielle Hayes, blogger for The Shelf, a data driven influencer marketing platform says, "Singles have ramped up their Valentine's Day spending over the last few years as well." She gives these fun facts about people and their love for Valentine's Day:
Twenty-seven percent of non-celebrants have Valentine's Day plans, whether it's to treat themselves or spend time with friends and family
To date, there are more than 473k Instagram posts tagged #galentines #galentinesday #palentines #palentinesday, the hashtags commonly used to celebrate mirror holidays Galentine's Day (for female friends) and Palentine's Day (for any friends)
Whether viewed as a commercial ploy by retailers to make people spend more, or a great way to celebrate love and relationships, Valentine's Day is a day of spending and gift-giving, even among those who openly shun the traditional "Valentine's Day for lovers" concept.