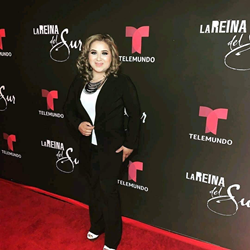 What do you give a flower business Mom for Mother's Day? Momprenuer Mireya Perez, owner of Mireya's Flowers, a floral design and event planning business at CFM is giving the Moms of California Flower Mall a cultural treat dear to their hearts. She is sponsoring three hours of live mariachi serenades on Dia de Las Madres to brighten the day CFM Moms and their extended families. CFM petalers work grueling hours during the holiday week and around the clock Saturday until 7 pm Mother's Day Sunday.
In the LA region there are many ethnically diverse ways to express love for Mom on her special day. Latin American Mother's Day – Dia de Las Madres, observed on May 10th is a very important holiday in Mexico, El Salvador and Guatemala."It's a Mexican custom to celebrate Dia de Las Madres by honoring Mothers with flowers, a mariachi serenade and a special dinner cooked just for them. Many Mexican-American families celebrate two Mother's Days – Dia de Las Madres May 10th and Mother's Day Sunday, May 12. That's really good for our businesses," Perez says.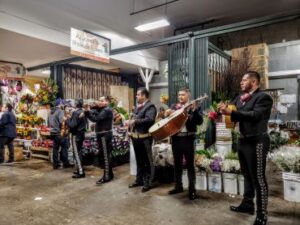 Mother's Day is the third-largest card-sending holiday in the United States, but ranks as the number one card- sending season for Hispanics, even higher than Christmas and Valentine's Day. Arlette Torres, Editorial Director for Sinceramente Hallmark who was born in Mexico underscores the importance of mothers to Hispanic consumers. "Mothers are beloved, deeply respected, revered figures in the Hispanic community," she says. "Her children view her as the source of goodness and love, affection, warmth and forgiveness. She is the idealized female figure, unequaled by other women."
"California Flower Mall is one of Downtown LA's most colorful, exciting urban destinations. It's lush with millions of fresh cut flowers, flower arrangements, plants and bouquets that dazzle the senses. Now, on Dia de Las Madres we'll have live mariachi music May 10th from 5am – 8am. You don't want to miss this, it gets better every year," says Mark Chatoff, owner and president of CFM.