California Flower Mall vendor Mireya Perez owner of Mireya's Flowers and Vanina Trogolo co-star in Sunday's episode of "Larrymania." Perez shows Larry how to get stunning Beverly Hills style wedding flowers from Downtown LA flower designers, save money and patronize fellow Latino creative entrepreneurs.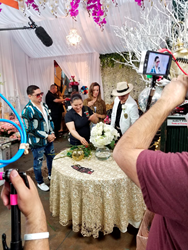 Mark Chatoff, CFM owner and President says he and CFM spokesperson Vani Trogolo had no idea how much star power Larry Hernandez and the show "Larrymania" packed when they booked the shoot. "All we knew was it was a Spanish language reality show doing an episode on wedding flowers and they asked to work with flower market vendor Mireya Perez. Mireya's astonishment was priceless when Larry Hernandez walked into her showroom to film a segment of "Larrymania" with her. Word got out in LA's Flower District neighborhood and the market was swarming with starstruck onlookers. It was clear why they kept the name of the show quiet."
According to Nielsen ratings, "Larrymania", starring Larry Hernandez, is the longest running celeb-reality show on Spanish language television. At the 2018 season 6 finale the NBCUniverso series was the #1 prime time Hispanic cable show, excluding sports, among adults 18-49 and 18-34. On social media, "Larrymania" ranked as the #1 most social primetime episode across all Hispanic entertainment networks on Sunday night. Larry Hernandez, a Mexican-American Singer-Songwriter in the regional Mexican music genre, used social media as a catalyst to Latin music idol stardom. His first YouTube music video went viral in 2009 with 12 million views. Eight more YouTube videos surpassed 1 million views. His social media fame caught the attention of large music industry recording labels and he signed a contract with a transnational Latin music record label. This career success helped him transition to performing in mass media, according to his official Wikipedia article.
Show producers and advance publicity states, "Larrymania" gives an unfiltered look into Larry and his family's ups and downs as they navigate life. Sunday's viewers will get to see Larry and his fiance Kenia Ontiveros explore their different wedding visions. Kenia visualizes a classic and elegant wedding. But, Larry plans to enter on horseback, where tacos and enchiladas will be served. In the spirit of compromise, Larry and his Instafamous friend, Armando Barillas, head to Mireya's Flowers in California Flower Mall. Their mission is to create a wedding flower design to prove to Kenia that a Downtown LA wedding flower designer can deliver the same classic, elegant wedding floral décor as a Beverly Hills florist, for less money. "When Larry Hernandez walked into my business I thought I was still asleep in a very real dream. He's a great guy. It was wonderful to bring his wedding flower vision to life. I'm grateful Larry remembers where he came from and he was willing to showcase our wedding flower design talent. I can't wait to see Kenia's reaction on Sunday night," says Mireya Perez owner of Mireya's Flowers showroom 121 in CFM.