California Flower Mall flower designer Mireya's Flowers debuts a new mobile friendly, interactive website to showcase their floral design talent to event designers, wedding planners and Valentine's Day flowers gift shoppers.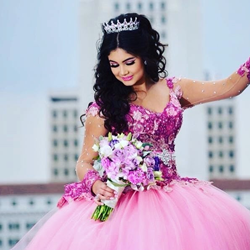 Mireya's Flowers website Valentine's Day season debut marks another first for one of the most creative, on-trend female flower designers at California Flower Mall. Mireya Perez was the first CFM wholesale flower business owner interviewed by Telemundo52 reporter Sandra Bonilla for a series on young Latino women entrepreneurs. She was the first CFM vendor to showcase rainbow roses. She was the first flower vendor in LA's 8 block Flower District to premiere forever roses. Forever rose products preserve the beauty, texture, scent and fresh bloom appearance of roses for a year or more using a process that removes the flowers water content replacing it with glycerin.
Perez says the new site is designed to help prospective and repeat clients conduct part of their event floral design planning and purchasing online. It lets them share images from an event they've produced or attended or browse designs for a specific occasion, color palette, style or price point. One click website functions let users easily:
See how the team brings a floral vision to life
Discover event design teams and venues Mireya's Flowers works with like Angels Touch Events
Make contact from the site by text, voice, email, or social media direct message
Navigate right to the showroom door for in-person appointments
The website is built for point-of-sale transactions with B2B event designers, wedding planning and florist service clients, she says. "A branded internet presence and mobile responsive communication tool makes it easy for clients of all ages – especially millennials and their wedding planners – to do business on the platform of their choice. It is an important part of our mission to deliver on-trend floral artistry, quality, punctuality and professionalism to our clients," she adds.
Mark Chatoff owner and president of the 25 vendor California Flower Mall wholesale flower market applauds the professional branding, design, and functionality of Mireya's Flowers new website. "In this robust economy, the number of floral businesses in LA's Flower District trade community is expanding right along with its geographic boundaries. Those that want to thrive will need to do more to standout than merchandise quality flower products in a high traffic location like CFM. Now it's critical to define and differentiate their business model, cultivate business relationships beyond showroom foot traffic, have a professionally branded dynamic online presence and be active on social media," Chatoff says.
About Mireya's Flowers
Mireya Perez is a master flower designer with 15 years of experience serving 10,000+ events in California and Las Vegas. The Mireya's Flowers team works with event designers, wedding planners and florist service clients to create custom floral designs for every style, culture, ethnic tradition, and occasion that make life's most memorable moments magic. Visit Mireya's Flower at http://www.mireyasflowers.com