CA Flower Mall launches new tech tools for Valentine's flower buyers makes it easy to directly connect with petalers for flower availability, prices, and pre-orders during the busy flower holiday season.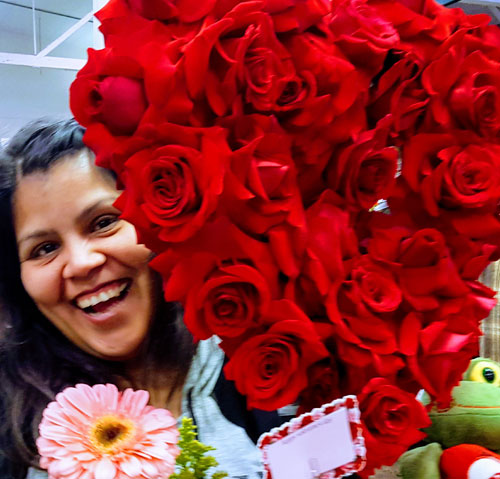 CA Flower Mall's new tech tools launch for Valentine's flower buyers are integrated in the new California Flower Mall mobile responsive website, making it easier for the floral trade and public to connect with petalers to check flower prices, availability and place pre-orders. Mobile users can quickly connect with CFM flower vendors on communication and social media platforms they're active on.
"CFM management office staff receives thousands of calls during the Valentine's season asking for flower prices and availability – we can't quote prices for 30 different flower vendor businesses. It's our goal to create a site that helps customers access that information quickly and easily direct from wholesalers and arrangers. It also includes resources for first timers on how to shop at a wholesale flower market, how to bargain and other tips to make their visit to California Flower Mall an enjoyable and productive experience," says owner and president Mark Chatoff.
The new website ensures that customers can get the best prices with minimal stress, saving up to 70 percent off Valentine's flowers and arrangements compared to retail outlets. Another great feature is the Google Maps Navigator which also enhances the ease of doing business as clients can easily be guided to the doorstep of California Flower Mall and convenient parking. In addition to helping customers easily locate flowers at extremely low wholesale to the public prices, the website offers Valentine's flower gift ideas, tutorials, and flower arranging tips to shop for flowers like a floral trade professional at this wholesale flower market.
Cupid 2.0 aims Valentine's Day love arrows at more than sweethearts these days – people show their love and affection with flower gifts to sweethearts, friends, lovers, family, teachers and pets according to research from The Society of American Florists. Life for bargain bud hunters just got a lot easier with the launch of the site designed in the CFM spirit of quality, convenience, and affordability for customers. The wholesale flower market with over 30 resident vendors and 45,000 square feet of sensory dazzling, gorgeous fresh cut flowers, tropicals, indoor plants, and orchids makes it incredibly easy to come-up with flower gift ideas. "As Valentine's Day 2.0 holiday gift lists grow longer and people start to tighten their purse strings, the best kept secret for LA's fresh flower bargain hunters has been demystified with California Flower Mall's new website tech tools." Chatoff says.
About California Flower Mall
The California Flower Mall, located at 825 San Pedro Street with parking at the 824 San Julian Street entrance, is one of the largest DIY wholesale flower markets in the eight block Downtown LA Flower District trade community — the largest concentration of wholesale flower markets and flower businesses in the U.S. It is located in the LA Fashion District Business Improvement District. CFM customer amenities include an ATM, cafe, public restrooms, and on-site parking. Visit CFM at https://californiaflowermall.com