CA Flower Mall Growers Direct Flowers spotlights their 825 San Pedro Street floral design teams' creative talent by sponsoring a daily Mother's Day Flower arrangement giveaway prize for California Flower Mall's Best Mom Ever Photo Contest – #CFMMothersDay. Growers Direct owners Gersain and Josefina Bustos ramp-up production and pass the espresso at their five LA and Orange County locations during the biggest flower holiday week of the year — Dia De Las Madres and Mother's Day — concluding at CFM with a 24/7 Mother's Day weekend all-nighter ending Mother's Day Sunday at 7 pm.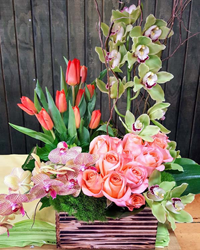 "The CFM Best Mom Ever Photo Contest on Facebook and Instagram is a great idea because it gives people an opportunity to celebrate and honor Moms and preview the rich design details, color palettes, flower quality and freshness the CFM Growers Direct Flowers team offers for Dia De Las Madres and Mother's Day flower gifts. Flower resellers and DIY shoppers get a good idea of our distinctive style. We love what we do, we do it well and we invite customers to pass that love on by pre-ordering Dia De Las Madres and Mother's Day Flowers from CFM Growers Direct," says Sylvia Lozano, manager, floral designer and instagrammer @growersdirectla.
Los Angeles resident Ryan Blake, the 5/5/17 daily winner of the #CFMMothersDay contest was chosen at random to receive the Mother's Day flower artistry prize designed by Lozano and her floral design colleague Juanita Garcia. The lucky Westchester resident who honored two generations of Moms in his photo says he is thrilled because orange is his favorite color. How does the Grower's Direct CFM team stay energized and creative working 18 hour days and 24/7 Mother's Day weekend while serving wedding planners and event producers at the most prestigious venues in Los Angeles and Orange Counties and the Inland Empire? "Cat naps, coffee and the slogan… when you love what you do you never work a day in your life," she says.
About California Flower Mall and Growers Direct Flowers
Growers Direct Flowers, http://www.gdflowers.com , at CFM is located in showroom 102 at the Mall's 825 San Pedro Street entrance. Their telephone number is 213-688-8858. The staff speaks English and Spanish. All major credit cards are accepted and delivery is free on orders over $200. Pre-orders of bulk fresh cut and arranged flowers are encouraged for Dia De Las Madres and Mother's Day weekend.
California Flower Mall, https://californiaflowermall.com, is located at 825 San Pedro Street and 824 San Julian Street, spanning a city block; it is one of the largest DIY wholesale flower marts in Downtown LA's eight block Flower District trade community. It is the only wholesale flower market open all night 24/7 Mother's Day weekend until 7 pm Sunday May 14, 2017. CFM is open to the trade and public, no entry fee or member badge is required. To inquire about flower availability and prices contact CFM vendors directly at: https://californiaflowermall.com/floor-map-vendor-directory/. Amenities include convenient onsite parking, an ATM, casual patio dining and tidy customer restrooms. LA's Flower District is the largest concentration of wholesale flower markets and flower businesses in the U.S. It is located in the 100 block LA Fashion District Business Improvement District.