California Flower Mall El Poblano Flowers, a floral event services provider to customers and event designers from diverse cultural and ethnic traditions awards Anayancy Rodriguez of Long Beach the May 7 daily winner of CFM's Best Mom Ever Photo Contest – #CFMMothersDay daily Mother's Day flower giveaway with their signature Tropier red rose sculpture arrangement prize.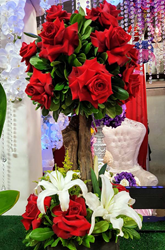 Anayancy Rodriguez is thrilled the photo of she and her Mom, Reyna Ramos both from Long Beach, won the daily CFM Best Mom Ever Photo Contest Mother's Day flowers giveaway. "It's awesome being a winner, thank you so much! My mom sure deserves this arrangement," she says.
Myrna and Angel Alba owners of El Poblano Flowers, have been in the floral industry 11 years.
Angel Alba is the artist and floral designer and Myrna Alba is the business manager and customer service representative. "I love interacting with our customers," Myrna says. Angel has been recognized for his signature "Tropier Rose" arrangement, a 3 foot tall long lasting sculpture of grapevine tree trunks and bubbles of lush "reflexed" rose blooms, greenery and other flowers. He personally harvests and conditions the wood and has perfected a striking design that is said to last three weeks if watered every other day. While many have tried to copy the "Tropier Rose" design since the Alba's moved to their California Flower Mall showroom in 2015, the artistry of Angel's design remains a distinctive flower gift favorite. The Alba's are working 18 hours days Dia De Las Madres – Mother's Day week and will participate in CFM's 24/7 Mother's Day Marathon weekend all-nighter that ends Mother's Day Sunday May 14 at 7 pm. Why are flowers a top Mother's Day gift year after year? "There's an old saying about celebrating life's precious moments now rather than later… give me flowers when I am alive rather than when I am dead," she replies.
About El Poblano Flowers
El Poblano Flowers is located in showroom 110 near CFM's 825 San Pedro Street entrance. Their telephone number is 424-536-9943 or 323-481-4403. Find them on Instagram @el.poblano.flower.2015. The staff speaks English and Spanish. Hand deliveries are available for an additional fee in Southern California. Flower arrangement pre-orders are encouraged for Dia De Las Madres and Mother's Day weekend.
California Flower Mall, https://californiaflowermall.com, is located at 825 San Pedro Street and 824 San Julian Street, spanning a city block; it is one of the largest DIY wholesale flower marts in Downtown LA's eight block Flower District trade community. It is the only wholesale flower market open all night 24/7 Mother's Day weekend until 7 pm Sunday May 14, 2017. CFM is open to the trade and public, no entry fee or member badge is required. To inquire about flower availability and prices contact CFM vendors directly here: https://californiaflowermall.com/floor-map-vendor-directory/. Amenities include convenient onsite parking, an ATM, casual patio dining and tidy customer restrooms. LA's Flower District is the largest concentration of wholesale flower markets and flower businesses in the U.S. It is located in the 100 block LA Fashion District Business Improvement District.