CA Flower Mall millennial entrepreneur sisters Miriam and Elizabeth Cazares are giving away a Mother's Day Flower arrangement prize in CFM's Best Mom Ever Photo & Video Contest $50-$500 Mother's Day Flower Daily Giveaway because it feels so good to see how happy the winner will be. The Cazares floral family is prepping for the biggest flower holiday of the year by working 18 hour days Mother's Day and Dia De Las Madres week and 24/7 Mother's Day weekend.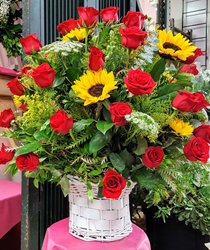 One of the youngest flower petaler teams at California Flower Mall, DTLA residents Miriam and Elizabeth Cazares owners of Cazares Flowers showroom 112 love seeing smiling customers leave pleased with their floral purchases. "When we see the look on a person's face when they leave here totally satisfied with their selection we know our work has served an important purpose. We do more than sell flowers — we help people tell each other how much they love and support their friends and loved ones," says Miriam Cazares. It was easy for Miriam and Elizabeth to decide to sponsor a flower arrangement prize for the CFM petalers Best Mom Ever Photo & Video Contest Mother's Day Flower Giveaway because they knew immediately that they were going to experience whole lot of joy, if not tears, when their lucky daily winner who turns out to be Viridiana Jimenez from Long Beach, CA — collects her impressive three foot tall, three dozen long stemmed 70 cm red rose and sunflowers Mother's Day basket flower arrangement prize.
CFM flower petalers are very competitive during the Mother's Day & Dia De Las Madres holiday season so the Cazares sisters were not ready to reveal the unique floral designs and specials they'll offer to distinguish their products from the other CFM vendors and those in LA's flower district neighborhood. Miriam says they're confident that new and loyal customers will be excited to see the different on trend designs and "surprise" Dia De Las Madres and Mother's Day flowers and gifts they'll offer floral trade resellers and DIY shoppers. "We'll have fresh, quality, high value flower gifts for every budget, style, taste and ethnic tradition starting at $10," she says
.
About California Flower Mall and Cazares Flowers
Cazares Flowers is located in showroom 112 in California Flower Mall. They speak English and Spanish.Contact them for questions about flowers and prices by telephone/text at 213-309-8466 during business hours Monday – Saturday 4:30 am – 4:30 pm and Sunday 5 am – noon. See Cazares' extended hours for Mother's Day & Dia De Las Madres week and 24/7 Mother's Day weekend on the CFM website.
California Flower Mall https://californiaflowermall.com , located at 825 San Pedro Street and 824 San Julian Street, is one of the largest DIY wholesale flower marts in Downtown LA's eight block Flower District trade community. It is the only wholesale flower market open all night 24/7 Mother's Day weekend until 7 pm Sunday May 14, 2017. CFM does not charge a fee or require a member badge to enter. Amenities include convenient onsite parking, an ATM, casual patio dining and tidy customer restrooms. LA's Flower District is the largest concentration of wholesale flower markets and flower businesses in the U.S. It is located in the 100 block LA Fashion District Business Improvement District.