California Flower Mall blooms 24/7 with last minute rose and church flower deals to honor the Feast of Our Lady of Guadalupe. Millions of L.A.'s Latino Catholic faithful bring fresh roses to mass to celebrate the qualities symbolized by their beloved Virgin.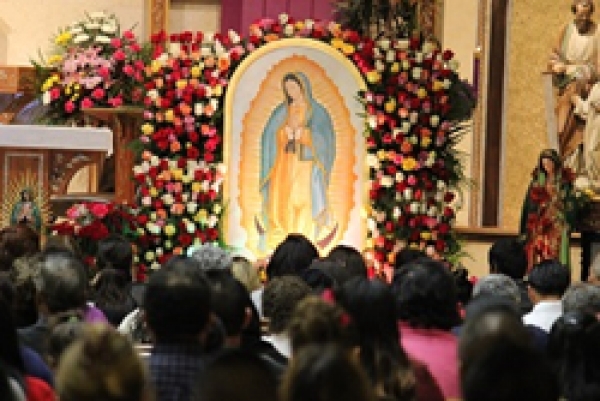 DOWNTOWN LOS ANGELES, CALIFORNIA (PRWEB) DECEMBER 08, 2016
California Flower Mall opens 24/7 before the Feast of Our Lady of Guadalupe with last minute roses and church flowers to honor the Latino Catholic faithfuls' beloved Virgin. CFM is the only Downtown LA wholesale flower market open around the clock starting 4:30am Sunday December 11 thru Monday December 12, 6pm. The Feast of Our Lady of Guadalupe is observed on Monday December 12.
CFM petaler Francesca Sanchez, owner of Andrews Wholesale Flowers says, "This religious holiday is bigger than Christmas or Easter for flower sales because everyone brings roses or flowers to church to honor the Virgin. Gifts of roses express devotion and faith on Dia de La Virgen de Guadalupe that words alone can't begin to say." While individual DIY bargain bud shoppers are a big part of high volume holiday sales, wholesale church flower orders are equally strong. "Our production of custom and off the shelf pieces to fill church orders for arrangements, arches and other floral décor pieces is the highest of the year." Sanchez adds.
Red roses are central to the story of the Virgin of Guadalupe's appearance and the many miracles she performed for a Mexican peasant and Catholic Bishop in 1531. Millions of Southern California worshipers attend theatrical, flower filled masses for the brown skinned Virgen de Guadalupe. Catholic parishes and Latino Episcopal and Lutheran congregations revere her with gifts of flowers, serenades, mariachi performers and Aztec dancers. "Today the Virgencita Mexicana also known as the Patroness of the Americas is recognized as a symbol of love, peace and compassion," says Monica Valencia, Los Angeles Archdiocese spokesperson. Celebrating the Virgin is predominately, though not exclusively, a Catholic tradition. Our Lady attracts worldwide appeal to those honoring the mystical, divine feminine and mother goddess traditions too, according to Anne Baring and Andrew Harvey authors of "The Divine Feminine, Exploring the Feminine Face of God Around the World."
First generation Mexican-American Christine Diaz, a student at Long Beach Community College, a frequent bargain bud shopper at CFM recognizes the power of faith and flowers for Los Angeles' Central and Mexican-American community. "In these anxious times following the Presidential election, it's important for my Latino brothers and sisters to take time to feel the love, peace and compassion the Virgin represents. The beautiful energy of fresh flowers uplifts peoples' spirits and gives them comfort. Now more than ever we need to keep our faith and spirits high and flowers help me do that."
California Flower Mall Feast of Our Lady of Guadalupe holiday hours are:
Saturday, December 10 – 4:30am through 7pm
Sunday, December 11 – 4:30am open around the clock until Monday December 12 – 6pm
About California Flower Mall
The California Flower Mall https://californiaflowermall.com, located at 825 San Pedro Street, is one of the largest DIY wholesale flower marts in Downtown L.A.'s eight block Flower District community, the largest concentration of wholesale flower markets and flower businesses in the U.S. It is located in the LA Fashion District Business Improvement District.