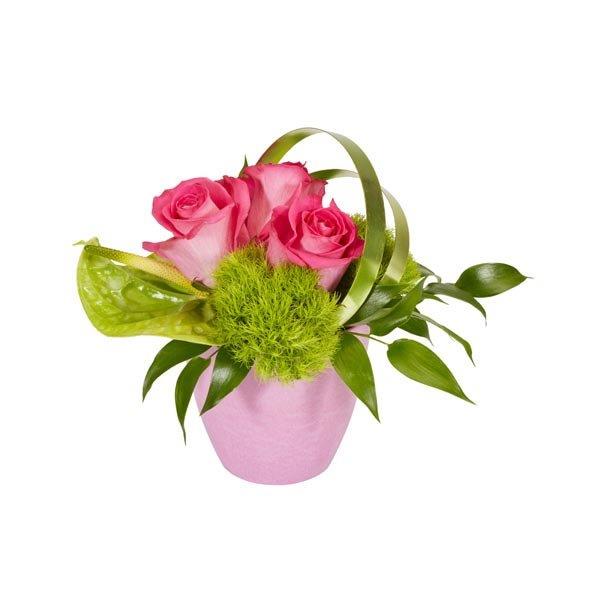 A rainy mid-week Valentine's Day prompted many LA couples, friends and families to move their holiday flower gift giving to the weekend. California Flower Mall petalers are open 7 days a week with fresh cut flower ingredients to design these Valentine's holiday or Spring design recipes created by OASIS Floral Products design team.
Holiday hearts and other design ingredients are now on sale this weekend at local dollar stores.
We've selected pink because it's topping the charts this year.
And, if DIY is not your thing wholesale florists have gorgeous ready made or custom designs at prices up to 70% off retail. If red is a must, visit the OASIS inspiration page for traditional red designs.

Image credit: Oasis Floral Products
Pink Delight Romantic Bouquet
Fresh Ingredients
3 Hot Pink Roses
2 Dianthus
1 Green Anthurium
1/2 Italian Ruscus
OASIS Ingredients
OASIS® ECOssentials 4 1/2″ Cube – Antique Pink
2′ OASIS™ Flat Wire – Apple Green
1/3 Brick OASIS® Floral Foam Maxlife
Pink and Orange Cinch Vase Arrangement
Fresh Ingredients
2 Umbrella Fern
3 Bird of Paradise
3 Orange Roses
2 Hot Pink Miniature Gerbera
2 Hot Pink Asters
2 stems Salal
2 Variegated Pittosporum
OASIS Ingredients
9 3/8″ Cinch Vase
3 55mm Glitter Heart, Fushia
Image credit: Oasis Floral Products
Pastel Explosion Floral Centerpiece
Fresh Ingredients
8 Miniature Calla
4 Orange Roses
1 Hydrangea
3 Pink Alstroemeria
2 stems Yellow Daisies
OASIS Ingredients
OASIS™ 4 1/2″ Cache Pot, Antique Pink
1/3 brick OASIS® Floral Foam
2 2 1/2″ Glitter Swirl Heart Pick, Pink
1′ OASIS™ Natural Wrap, Corn Husk
1′ OASIS™ Natural Wrap, Pear Leaf
1 OASIS® UGLu™ Adhesive, Strip
3 OASIS® UGLu™ Adhesive, Dash
Image credit: Oasis Floral Products
Pink Squared Floral Centerpiece
Fresh Ingredients
2 Hot Pink Roses
2 Green Fuji
1 stem Cymbidium
OASIS Ingredients
OASIS™ ESSENTIAL ™ Square Bowl, Strong Pink
1/2 brick OASIS® Floral Foam
5 LOMEY™ Diamante Pins, Pink
Image credit: Oasis Floral Products
Shades of Pink Floral Vase Design
Fresh Ingredients
4 Hot Pink Roses
7 Pink Alstroemeria
2 Hot Pink Matumoto
3 stems Pink Spray Roses
2 stems Gypsophila
2 stems Salal
2 stems Seeded Eucalyptus
OASIS Ingredients
9 1/4″ Paragon Vase
Image credit: Oasis Floral Products
Orchid Overture Floral Centerpiece
Fresh Ingredients
3 Stems Lavender Roses
5 Stems Purple Dendrobium
3 Stems Eryngium
2 Stems Wax Flower
OASIS Ingredients
6 3/4″ Cinch Vase
Image credit: Oasis Floral Products
Hydrangea and Natural Wrap Floral Centerpiece
Fresh Ingredients
3 Green Hydrangea
3 Beige Carnations
1 Seeded Eucalyptus
1 Silver Dollar Eucalyptus
2 Alstroemeria
1 Grevillea
OASIS Ingredients
8 1/4″ Cinch Vase
6″ OASIS™ Cotton Lace Wrap, 2″ Floral
1′ OASIS™ Natural Wrap, Alamo Bark
4′ OASIS™ Rustic Wire, Natural
1′ OASIS™ Natural Wrap, Woodland Bark
4 OASIS® UGLU™ Adhesive, Strips
Image credit: Oasis Floral Products
Garden of Love Bouquet
Fresh Ingredients
6 Gladiolus Stems
4 Hypericum Stems
5 Rose Stems
6 Salal Stems
5 Pieces Variegated Lily Grass
3 Bells of Ireland Stems
OASIS Ingredients
11″ Bouquet Vase – Purple
6′ OASIS™ 1″ Flat Wire – Strong Pink